In many ways, bathroom vanities serve as the centerpiece to any bathroom. As one of the most visible elements of the room, the vanity will go a long way in helping you establish the preferred style and aesthetic for your remodeling project. Depending on your selection, the vanity could anchor the rest of the elements of your bathroom — or it could stand out like a sore thumb.
With so many bathroom vanity styles to choose from, it can sometimes be hard to determine which option will be the best pick for your needs. To get the best in terms of both style and functionality, there are a few important elements that every homeowner should consider.
Know How the Floor Plan Fits Your Bathroom Vanity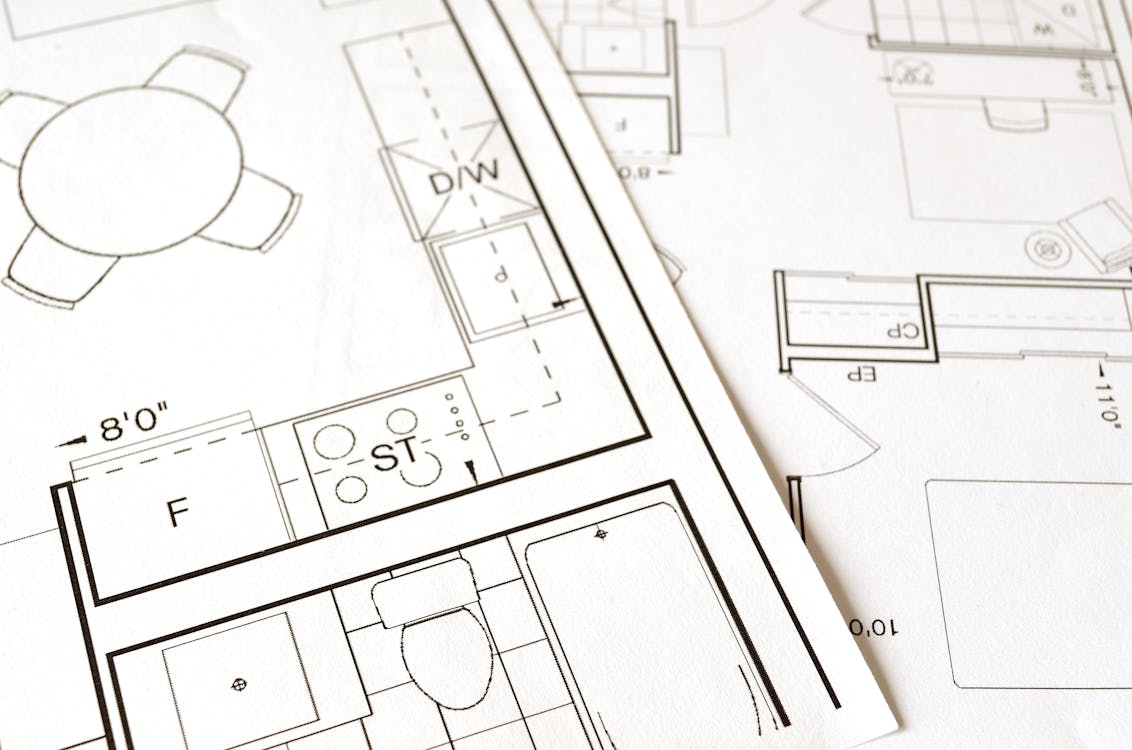 When first planning for a new bathroom vanity, you should make the floor plan of your bathroom a top consideration — particularly in how it relates to the location of your current vanity. Generally speaking, the easiest and least expensive option for remodeling is to purchase a new vanity that shares the same dimensions as the old one and will go in the exact same location.
When you purchase a vanity that matches the dimensions of the old unit, you won't have to worry about it being too large and impeding your walking lanes or having drawers that bump into walls. It also becomes much easier to hook up the new plumbing connections.
This allows you to do what is essentially a "surface remodel." In such situations, many homeowners with moderate DIY skills can handle the removal of the old vanity and the installation of a new one without enlisting the help of a contractor.
Of course, the current floor plan may not always be conducive to your overall goals for the bathroom. In this case, changing the location of the vanity may be needed to help fulfill your overall vision. Be mindful of the additional costs and additional remodeling time that may be associated with these larger-scale changes, especially in regards to installing new plumbing pipes. 
If you are going for a full-scale remodel that even includes knocking down walls to enlarge the size of the bathroom, you are practically unlimited in terms of what size of vanity you can get. Work with a designer to find an option that will feel appropriately sized for the newly renovated space.
Traditional, Transitional, or Contemporary?


The style of vanity that you select will go a long way in establishing the overall feel of your bathroom. While there are many options to choose from, homeowners should start by considering the general style they prefer for their bathroom — traditional, transitional, or contemporary.
Traditional bathroom vanities offer a cabinet-style design that is often evocative of farmhouse or old-world European styles. These free-standing vanities look more like a piece of furniture, and can help create an elegant, distinguished look. 
Modern or contemporary vanities, on the other hand, offer a sleek, minimalist appearance. Many use materials other than wood, such as glass or stainless steel, to help these designs stand out even more. Wall-mounted vanities are quite common, giving the bathroom a more open, airy feel. 
Make sure that other features that are added as part of your remodel match this aesthetic. You don't want to get a contemporary vanity if it will clash with your antique-style tub! It can also be helpful to consider your decor throughout the house. Maintaining the same general "style" in the bathroom as is used in the kitchen or living room will help create a unified, cohesive feel.
Choose Bathroom Vanity Colors Carefully
Beyond the general theme and design of your bathroom vanity, you must also consider the color that would be the best fit for your bathroom. While contemporary and transitional vanities tend to offer a wider variety of colors than traditional models, the color you choose is still important regardless of style.
Generally speaking, traditional vanities are available in darker, natural colors, though some are also available in colors like white, gray, or blue. With contemporary vanities, you could even get brighter options like orange, red, or yellow. You'll also find alternative finish options, such as a glass or mirrored finish.
These colors are more than just a reflection of your personal tastes — they also influence the feel of the entire bathroom. Dark colors tend to evoke a more reflective or introspective feeling. They can also make a room feel somewhat smaller. Light colors can help a room feel larger and potentially even more inviting.
Because of this, if you are remodeling a smaller bathroom, a dark brown or black vanity could cause the room to feel tight and claustrophobic, particularly if you have dark-colored walls. On the other hand, if a similar vanity were placed in a large bathroom, it could provide a helpful anchoring effect.
You should use the color of your vanity to help determine other color selections, such as the walls or flooring. This will make it easier to create the desired level of cohesiveness or contrast in your material selections so you can create the right ambiance for the bathroom.
How Many Sinks?
The number of sinks offered by a bathroom vanity is one of its most important functional elements. While a single sink may be fine in the guest bathroom, a double sink unit is typically much more convenient for a master suite where both spouses get ready for the day at the same time.
Of course, if your current bathroom vanity only has one sink and you'd like to add a model with two sinks, some additional plumbing work will be required. However, this will be worth the extra investment if it helps streamline your morning routine!
Even if you have a smaller master bathroom, this doesn't mean that you can't install a double-sink vanity. You should also keep in mind that a double sink will reduce how much countertop space is available.
When determining whether to get a single or double faucet vanity, it is also important to remember that many vanities do not come with a faucet pre-installed. You will need to pick a faucet that matches the pre-drilled holes in the vanity countertop, whether that be a single-hole faucet or widespread mount.
In addition to selecting a faucet style that matches your vanity, you may also wish to consider installing low-flow faucets. These faucets help reduce your household water consumption, which will lower your utility bills and your impact on the environment.
Don't Overlook Storage Needs
A wall-mounted vanity may provide a sleek, modern look for your bathroom, but will it provide enough space for storing extra towels, toiletries, and other bathroom supplies? Understanding your bathroom storage needs should also play a key role in your vanity selection.
The overall dimensions of the bathroom vanity don't necessarily define whether it will meet your storage needs. Pay attention to the number of drawers and doors that a vanity has. This can make it easier or harder to organize everything, and will likely determine whether or not you can fit everything you need into a single vanity unit.
If you require additional storage space, you may want to purchase a bathroom vanity that includes a matching side cabinet, which will ensure that you have enough room for all your supplies. As with installing a vanity itself, make sure that the addition of a side cabinet does not encroach upon walkways or cause the bathroom to feel cramped and crowded.
Generally speaking, you will need the most storage space in a master bedroom. Guest bathrooms will require some storage, but not nearly as much as in a master suite, which could make a wall-mounted vanity with less storage space more feasible. A hallway half-bath may not require any storage whatsoever, especially if it is located near a linen closet where you can store additional bathroom products.
Matching With Mirrors and Medicine Cabinets
Once you've selected your preferred style of bathroom vanity, the next step is to find a mirror or medicine cabinet to go with it. Some vanities actually include a matching mirror or medicine cabinet. 
Even for bathroom vanities that don't come with a mirror or medicine cabinet, many manufacturers produce several models that would serve as an appealing match to the vanity unit. 
But which option is best for your needs? The answer will be largely dependent on what you currently have in your bathroom, as well as how much storage may be needed.
For example, a pedestal vanity works great for small bathrooms, but doesn't provide much storage space. Because of this, a medicine cabinet will typically be the best option for bathrooms that are used for morning or night-time preparations. However, if you were installing a pedestal vanity in a hallway half-bath, you could likely get by with a mirror, since these bathrooms are typically only used for convenience during the day or when hosting visitors.
With larger vanities, a single medicine cabinet could easily look dwarfed and undersized in comparison to the vanity itself. While you can gang multiple medicine cabinets together, it is often easier to simply place a larger mirror above the vanity — especially if the vanity already provides plenty of storage space.
Some medicine cabinets offer exciting additional features, such as a glass defogger or a night light, which can help improve your bathroom's functionality, even if you don't need much extra storage space. However, you should be aware of additional electrical wiring work that may be needed, as well as the extra labor that goes into installing a recessed medicine cabinet.
Making the Right Bathroom Vanity Selection
When you carefully consider these factors before you start shopping for a new bathroom vanity, you will have a much easier time narrowing down your search. Determining which features are the most essential will also help you make a purchase that you will be satisfied with in the long run.
Here at Bathroom Vanities Showplace, we understand that price is frequently an important factor when buying a bathroom vanity. We don't want you to have to settle for a vanity that doesn't live up to your expectations simply because of the price!
By ensuring that you don't break the bank when you buy a vanity, you will be better positioned to stretch your budget for the rest of your bathroom remodeling to-do's. With a new vanity from Bathroom Vanities Showplace, you will be able to truly create the bathroom of your dreams, at a price you can afford.